When it comes to purchasing a used car, there are all sort of options and myths floating around about how you should approach getting the best quality vehicle for your money. However, when you boil everything down, the most important thing to remember is that you'll be the one behind the wheel.
With that said, it's still wise to have a list of steps to follow so you won't accidentally land yourself a ride that's not up to snuff. Luckily, you now have access to all the tips and tricks you need to secure a reliable vehicle. With this Used Car Buying Guide eBook, you'll be supplied with a free checklist of how to navigate the world of used Chrysler, Dodge, Jeep, Ram, and FIAT cars.
From here, you'll discover a bevy of information on how easy it is to score an amazing car at an even more amazing price. Some of those details include: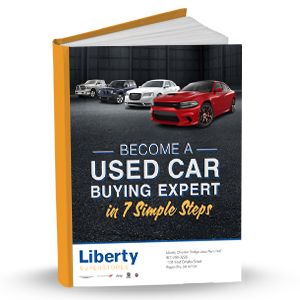 Budgeting
Creating a Wishlist
Doing Your Homework
Reviewing the Specifics
Test Driving Your Car
Making a Decision
As if that weren't enough, this eBook comes packed with coupons that'll help you save some cash once you've decided on your ideal used car.
So, don't hesitate to take advantage of all the valuable information and convenient vouchers you'll uncover in this Used Car Buying Guide eBook. All you have to do is click, download, and start reading our list of tips for buying a used automobile.
Simply fill out the form and click Submit.