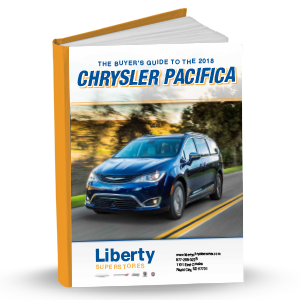 Over the years, Chrysler Pacifica has done an amazing job of evolving the image of the midsize crossover: from being a boxy, conventional kid-shuttle to a sophisticated, all-purpose vehicle. Its outstanding performance, reliability, and innovative tech are sure to impress every member of the family.
So, if you want to learn more about how this minivan is the best option for you, download our FREE 2018 Chrysler Pacifica Buyer's Guide eBook. Inside you'll find:
What's new for 2018
Standard and available safety features
The latest technologies to enjoy
The 2018 Chrysler Pacifica tops the list of the best family vehicles for drivers throughout Rapid City, Belle Fourche, and Sioux Falls. To see if it's the best for your family, simply fill out the form on this page to download our FREE Buyer's Guide today!